I love adventures. Doesn't matter if they're small adventures, or big ones, or any size in between. I especially love 'em if they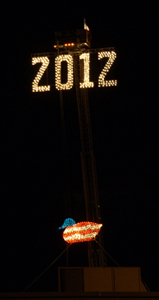 have something to do with learning.
Here's an adventure I had a couple of weeks ago – the first of what I'm sure will be lots of learning adventures in 2012!
Build-your-own learning
Are you looking for a cool new way to offer learning at your conferences? Take a hint from the Learning Lounge at PCMA's recent Convening Leaders conference in San Diego. The lounge offered a build-your-own experience, allowing conference participants to choose from a variety of bite-sized chunks of learning.
Exhibit Hall F at the San Diego Convention Center was given over entirely to the lounge. Lots of activities were going on simultaneously in clusters of comfortable seating and mini-theaters scattered around the hall. I had the good fortune to be invited to participate by Jeff Hurt and Dave Lutz of Velvet Chainsaw Consulting, who organized part of the lounge activities – the "Really Live Chats" and the "Big Ideas Pavilion". Both areas featured a number of experts in growing attendance, expo and sponsorship, and designing meetings for learning.
Really Live Chats
     For the "Really Live Chats" Jeff and Dave identified, in advance, 22 thought leaders in conference learning, growing conference attendance, and sponsorship generation, then interviewed them via Skype video. The resulting 10-minute video clips were available for viewing in each of three mini-theaters clustered together. I was one of several chat facilitators who played clips (chosen by those present) and then facilitated informal discussions with people who came and went as they chose. Some marvelous spontaneous conversations and idea-generation occurred!
Big Ideas Pavilion
     Over the three days of the conference, the "Big Ideas Pavilion" featured 40 or so TED-style presentations offered by a number of meetings and learning experts. Continue reading →
{ 2 comments }