Facilitating success…
A dynamic and engaging speaker/facilitator, Kathi Edwards takes a participant-centered approach to every session she leads. Her decades of experience in working with people and organizations to ramp up the quality of learning opportunities perfectly position her to work with you to offer the meeting or learning event your participants need.
Work with Kathi to create…
Workshops, conference sessions, and virtual learning experiences covering learning topics that matter to your participants
Speaker/subject-matter expert development programs instilling a 'learners first' mindset
Board / committee / staff meetings exploring the possibilities and practices for effective learning
Stakeholder strategy retreats to challenge thinking and inspire imagination – and produce results
Here's a small sampling of content areas available; each one offers lots of opportunities to build your organization's "learning muscle".
Transforming subject-matter experts into 'facilitators of learning'
Partnering successfully with subject-matter experts
Engaging learners effectively – face-to-face or virtually
Leading virtual learning
Developing an organizational learning strategy
If you don't see the content you need, let's talk! Kathi will be happy to adapt or customize a program just for you. Please contact her for options, details, and dates!
Count on an engaging experience
Ascribing to the notion that there's not a single shred of scientific evidence that says life has to be serious, Kathi takes a fun and creative approach to learning and facilitation; participants are actively involved and have fun in the process! As a result, she consistently receives rave reviews. Here's what some recent participants have said:
"Kathi was great…engaging, personal, and professional. I learned tons! She really practiced what she preaches – facilitated and guided the learning process."
"This was a very well thought-out and put together series. It was very effective, especially with all the pieces of interaction within a webinar. The examples, techniques, and pacing were just right."
"Once again your creative approach definitely hit the mark with those who attended. The evaluations were overwhelmingly positive and the members I have spoken to over the past week keep bringing up what a great session it was."
"Kathi is an amazing facilitator, especially virtually. No one was left out and she took time to personalize and help make the experience intimate. Would love to learn more from her!"
---
Conversations that matter: a different kind of learning experience
Imagine this scenario: people engaged in conversation about what matters…shared understanding and discovery emerging…building on each other's knowledge…new ideas and choices arising that may never have existed before. Then imagine yourself contributing! Participants in Conversations that Matter create their own learning journeys via fun, engaging, creative conversations exploring questions that matter to them.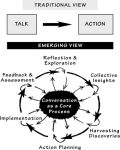 For this unique experience, Kathi works with you and your stakeholders to identify one or more powerful questions focused on possibilities. Then, she hosts the conversation using a proven process for participant-driven discovery and innovative thinking known as the World Café. Afterward, Kathi is often asked to work with designated stakeholders to develop strategies for the insights that emerge.
Consider using a café conversation for a general session or breakout during a larger conference, or as part of a strategy retreat. For deep insight and understanding about possibilities for major issues facing your organization or its industry/profession, bring together your stakeholders for a stand-alone café that lasts a half-day, full day, or longer.
Please note: café conversations require a specific room set-up, a minimum of 16 participants, and duration of not less than 90 minutes. A café length of at least 2-3 hours is preferred so that participants can more fully explore the possibilities they create together. Contact Kathi to learn how a World Café conversation might contribute to your organization!