I learn, therefore I am.
My work and my life are all about learning. That I get to combine something I love with the work I do makes life great fun! Not a day goes by that I don't get curious about something and, as a result, learn something new or build on what I already know. Sometimes it's just for me; other times I share what I learn with others. It's simply a way of life.
I come by my curiosity naturally. Growing up in my house meant learning was the priority, whether it was doing homework right after school, taking piano lessons, or getting up at "oh-dark-30? to watch John Glenn blast into space aboard Friendship 7. My two siblings and I were constantly presented with opportunities to learn – and we were expected to take advantage of them. My father, a nuclear physicist working in the space program during the glory days of the 1950s-60s, believed a manned mission to Mars could happen in his lifetime. He profoundly hoped his eldest child (me) would follow in his scientific footsteps. Alas, it was not to be. I love science – always have, always will, thanks to him; however, differential equations and the finer points of calculus and trigonometry did me in when it came to pursuing a science career.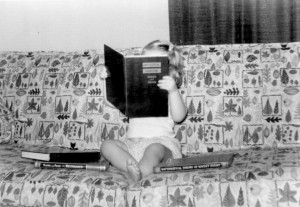 Differential Equations
My father's gift
Instead, my father's fascination with the wonders of science, math, and the universe gave me the best possible gift: an unquenchable curiosity and sense of wonder, wrapped in a profound passion for learning itself. His dream mission to Mars hasn't happened yet, and he died way too early – in 1982 at age 57 – to see even routine space shuttle missions or the spectacular images from the Hubble Space Telescope. In his own way, though, he gave me the stars. For that driving curiosity and the will to satisfy it, I thank him.
The road traveled instead
I've been an independent consultant since 2003 – when I decided it was time to fulfill a years-long ambition to strike out on my own and have some fun with learning. Fun, for me, includes starting a new project, exploring ways to overcome a challenge, figuring something out, contributing and, always, learning. I especially love opportunities to ask "why?" or "what if…?" and then explore the possibilities.
Shifting my career focus to independent consulting was almost a no-brainer. I get to ask "why?" and "what if…?" a lot!
Before turning to consulting, I spent 25 years working in 5 distinctly different trade and professional associations. Along the way, I worked up close and personal with two different industries and three separate professions. Across these organizations I led staff departments in professional development, convention and meeting planning, marketing, membership, and communications. I had wonderful experiences working with people who cared a lot about what they do; I learned more about these industries and professions than I ever would have otherwise. These experiences broadened my horizons and fed my learner's soul – and their diversity was the perfect training ground for the consulting work I do today with a wide variety of organizations.
Career coaches tell us to focus our work on what we're passionate about, and I've done just that: created a business and a life that allows me to do what I love best: learn, create, perform, and help others grow. And that opens a lot of possibilities!
Some of the professional stuff:
16 years as an independent consultant specializing in creating effective learning environments and strategies (2003-present)
Qualified lead assessor for the American National Standards Institute's (ANSI) Certificate Accreditation Program, based on ASTM E2659-09 (transitioning to E2659-18 in 2019-2020), Standard Practice for Certificate Programs (2009-present)
Facilitator for the 3-day, face-to-face Training Certificate Program (2007-present) and other public/corporate-onsite programs offered by the Association for Talent Development (ATD)
Creator of and facilitator for ATD's popular 3-part webinar Essentials of Coaching SMEs to Facilitate Learning (2009-2017)
A lifetime of 'serial volunteering' in civic, community, and professional organizations, including multi-year stints on two ASAE section councils: Communications and Professional Development (one year as PD chair)
Certified Association Executive (CAE) since 1989
In my 'other' life, I have fun with a variety of things…
I sing! Since 1980, I've been a member of Sweet Adelines International (SAI), a worldwide music education organization of women who love learning, perfecting, and performing 4-part barbershop harmony. For 16 years (2002-2018) I sang lead with Upper Chesapeake Chorus (UCC), a two-time regional champion chorus (2011 and 2013) that competed twice at the international level (2012 and 2014). I'm currently taking a break from active chorus participation, although I remain a member of the international organization.
When I'm not at my computer or singing, you might find me clickin' the shutter on one of my cameras as a "serious amateur" photographer with a passion for nature. Then I'm back at the computer,  creating fine-art photographs, note cards, and postcards – I even sell a few now and then!
As an ardent book-a-holic with eclectic taste, I'll read just about anything that looks interesting! At any given time I have at least a novel or two as well as a couple of business books in progress. I'm partial to historical novels, mystery/suspense, and speculative fiction, and to books about the space program (especially insider looks) and digital photography. Reading apps and e-books have kept my physical books from taking over, although I still have a lot of 'em!
Once in a while I dabble in creating art with acrylics, pen-and-ink, and pencil. When I'm not up for the visual arts, I play with word images. Someday I'd like to write the Great American Novel. First, though, I have to write the Great American Paragraph.