I've been reading a lot about the shake-up going on in learning, learning effectiveness (or lack of it), and how everyone wants to see learning events like conferences and webinars transformed. And for some time, I've been seeing variations of this somewhat-plaintive question: how do we get our conference speakers to stop lecturing and start engaging?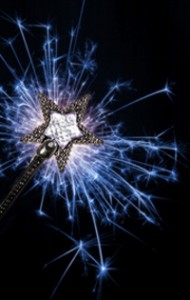 I'd really love to invent a magic wand that with a single touch would transform subject-matter experts (SMEs) into the ideal "facilitator of learning" role we all want them to have. I'd make a fortune selling it to associations and corporations that want their conference sessions and other learning opportunities transformed from, as I said in my TED-style talk a few years ago in the Learning Lounge at PCMA's Convening Leaders event, "ho-hum" to "oh, wow." Speakers would lead amazing sessions, participants would always get what they need, and conference organizers would be very happy indeed. Sadly, we don't yet have that magic-wand-building technology.
Discovering SMEs. A big part of the work I do now and have done over the past couple of dozen years centers on helping SMEs move towards that coveted "facilitator of learning" role. In working with hundreds of SMEs across dozens of professions and industries in both not-for-profit and for-profit organizations, I've learned a few things about what makes them "tick," what motivates them, what concerns them, and what it takes to transform them into facilitators of learning. It's not magic, although the results can be magical.
SMEs all have one thing in common. Of course, it's that they know their content (to sometimes varying degrees). At least, they know that content in relation to the work they do. They are typically very good at that work, which is why they are invited to speak to others about what they do and how they do it…about their successes and lessons learned. People want to hear success and failure stories in hopes of either emulating or avoiding what the speaker has experienced. Hearing the voices of others who have trod your road before you can be very powerful.
The thing is, just hearing about such experiences doesn't mean you are learning.
Learning is a partnership. Effective learning is collaborative. It's engagement. It's the sharing of knowledge and seeking meaning and application that makes sense for the learners' situations. It can and does happen organically, yet a "guide on the side" can offer value learners alone may not achieve. There will always be a role for subject-matter experts in effective learning…that role is clearly changing, though, as the world becomes more connected.
And in case you haven't guessed, effective learning isn't just about SMEs. It's about learners, too. If you're a subject-matter expert: get over that it's all about you and what you know. If you're a learner: start coming to learning opportunities ready to contribute, instead of as an empty bucket waiting to be filled.
Help me define a new series of posts.
I'm planning a series of posts about coaching and working with SMEs so that those who matter most – your learners – get what they need. They won't involve a magic wand…just some from-the-trenches thoughts and experiences to spark some dialogue about how you can help your SME-led learning opportunities achieve that magic goal of engaged and happy learners.
Frankly, I'm not sure what the timeline will be; however, I'm passionate about the subject! It's great to lament the need to change things; it's something else entirely to identify what it takes to achieve, and then do it. Yet there are some fundamental things you can do to make a big difference in the effectiveness of sessions at your next learning opportunity.
Think about it from your own perspective. By the way, I'm a subject-matter expert. You are too, especially if you speak at conferences in your field. Some of what I share will be from my own experiences as an "SME." You can do the same right now. Think about your experiences as a session leader. What would help you prepare ahead of time? What could a conference organizer provide you that you're not getting (before, during, or after)? What if you offered those things to the SMEs who speak at your event?
And if you really want a potentially eye-opening experience, identify the best learning experience you ever had: school, work, wherever it was. Then ask yourself: What made it that for you? Write down some one- or two-word characteristics that capture the essence of the experience. What if you could deliver that kind of experience to your learners? What would it take to do it?
Share your insights, thoughts, questions. I invite you to share your insights here. And to help me focus these future posts on what you'd like to talk about, tell me your challenges and success stories and anything else you believe to be relevant. Let's get a dialogue going, and instead of talking about how things need to change, let's start changing them.