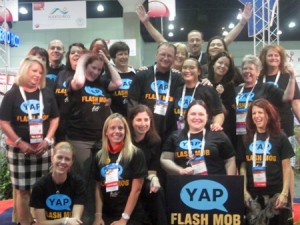 Yep…went there…let my inner YAP (Young Association Professional) come out to play (twice!)…and even got the t-shirt!
I've never been one to shy away from having fun…especially when it comes to dancing! The instant I read the June call to join in the Sunday morning flashmob at ASAE's annual meeting in LA, I was in. And boy, did we have a blast…the second time was even more fun than the first!
If you haven't seen it yet, take a smile break and watch the "official" video shot by Lynn Morton!
I'll add my thanks to those of many, Meet Austin, for the t-shirts and for graciously allowing us to take over your booth (twice!) for the fun. To all of you who watched us…next time, put on your dancin' feet and join in!
(and yes, I'm in this photo; thanks to Lauren Wolfe for making it available!)